Humphrey J. Lynch was born in 1841 in Ballvourney, Co. Cork. He left for America at 15 years of age and settled in a town known as Byefield, which he later used in naming his estate Byefield house. After working there for two years with Joseph Longfellow, cousin to the famous poet Henry Wadsworth Longfellow, he worked for a year in the ship yard at Newburyport until the American civil war broke out.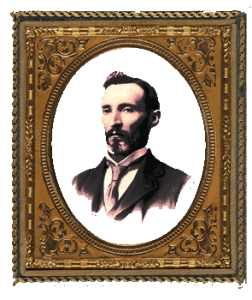 He was one of the first to enlist in the 4th U.S regiment light artillery battery. Having enlisted as a private, he came out a sergeant and was discharged in 1865. He served through 27 general engagements principally in the army of the
southwest and along the Mississippi valley.
After the war he worked for 14 years as a foreman of the picker room in Newburyport cotton mill. This would later inspire him for the name of a public house he purchased in Baile na Mbocht after returning to Ireland in 1870's. In later years his travels in America would inspire the change of name from Baile na Mbocht to Mayfield, a town in which he once lived.
He was known as a very progressive and forward thinking man and he embraced new technologies of the time. He was a firm believer in progression through change and adaptations. His dreams of continuous improvement are realised today in the
establishment of the Cotton Ball Brewing Company in Mayfield, Cork City.